Why I understand you.
I was once in your shoes. I wasn't happy at my corporate consulting job, I lacked energy, I didn't have great relationships, and I felt stuck. Yet I complained about my life, instead of fully reaching out to get support, educating myself on what it truly meant to be happier, and taking action to make it all happen.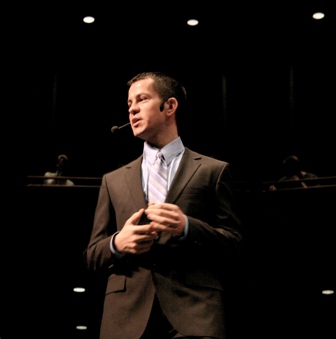 I worked with a nutritionist, I got a personal trainer, I saw a therapist - you name it. However, I found that everyone had a different opinion on what I needed to do to take control of my life. None of them had comprehensive knowledge about diet or lifestyle. I needed an individualized approach that taught me to trust my own intuition, while at the same time improving my knowledge about what diet and lifestyle options exist.
Eventually, I found a great personal health and life counselor who taught me what it really took to reach my goals. My life was never the same since. I was so inspired by what I had accomplished that I decided to dedicate my life to helping others discover what I learned. I enrolled in an internationally recognized training program at The Institute for Integrative Nutrition to become certified in health and lifestyle counseling.
Upon completion of my program I founded Robert Notter Coaching. And now here you are, reading about me and my work. Amazing what can happen in life, once you put your mind to it!
In case you were wondering, here are my qualifications and experience:
Robert C. Notter HHC, Founder & Director
Certified Health & Lifestyle Coach

Training And Education

The Institute for Integrative Nutrition
Professional Training Program
Graduate Counseling Program

Loyola / University of Illinois
Bachelor Of Science, Marketing & Information Science

Power Pilates
Pilates Instructor Certification


Associations

American Association of Drugless Practitioners
Board Certified Member


Affiliations & Other Experience

The Institute for Integrative Nutrition
Faculty Member
Director of Advanced Vocational Training Program

The New York Open Center
Seminar Instructor
Newtworking Event Speaker

Draft Worldwide
Corporate Wellness Workshop Presenter
Group Wellness Program Facilitator

Undertone Networks
Corporate Wellness Workshop Presenter
New York Fire Department
Counseling Unit, Workshop Presenter

Manhattan Chamber of Commerce
Workshop Presenter & Panel Member

The Center
Workshop Presenter And Volunteer

Planet Out.com
Health & Life Coaching Columnist

Out Professionals
Workshop Presenter

Urban Outings
Workshop Presenter

The Institute for Men's Health
Workshop Presenter

Bottomless Closet
Workshop Presenter


Publications

Fast Track- Business Development for Health Counselors
Co-author, Integrative Nutrition, 2006 - 2009

American Perspectives on Culture and Life in Germany
Co-author, Koerber Press, 1996
Learn more about coaching here